Our next AT&T Mobility bargaining town hall call is on October 19 at 8:30pm ET/ 7:30pm CT/ 6:30pm MT/ 5:30pm PT.
Text MobilityCall to 69866 to make sure you are opted in to receive a call to connect you.
There will be an update on what's happening at the bargaining table and our mobilization activities. During the call, there will be an opportunity for you to ask questions.
Hurricane Relief for CWA Members
To help members in Puerto Rico and the Virgin Islands, use this link:
To help members in Texas and in the Gulf Coast area, use this link:
CWA / AT&T 2017 "Orange" Contract Bargaining
October 13, 2017 – Bargaining Report #57
This morning AT&T sent out an email to our membership that begs clarification. While
not exactly fake news, it is misleading and aimed at dividing our membership.
As we last reported, AT&T did pass proposals last week. They did not pass proposals
to address any of the issues that we have been discussing with them since May. In
May, you successfully struck AT&T and let the company know we are not accepting less
than you deserve. Our proposals still on the table reflect your priorities. Following this,
AT&T continued to refuse to provide the information we need to bargain your future for
the next four years. AT&T needs to be more forthcoming with the truth.
They refer to "formal" proposals not being passed since May, but they leave out the
why. We have outstanding requests for information that impact our ability to make
additional formal proposals. We have had proposals on the table for months that AT&T
refuses to address except to say they have no interest. AT&T would prefer we bargain
in the dark. AT&T has made requests of CWA that violate the National Labor Relations
Act and we anticipate we will hear back from the Labor Board soon.
CWA has told AT&T that we agreed to meet via phone conference for a few weeks
while we work on issues other than wages and benefits, such as working conditions.
One issue familiar to Call Center workers is MI-60. After weeks of AT&T promising to
bring an operations manager to bargaining to explain their use of the MI-60 program in
Call Centers, we were finally joined by Bradley Petrick, the AVP over ATS call centers.
The description of how this program is supposed to be used in the centers, while
enlightening, did not resemble in any way what you have told us actually occurs.
Since AT&T indicated in their morning email that they are expecting a response on what
was passed last week, CWA asked to reconvene at our mutually agreed upon
bargaining location, and guess what? They are not available as their bargaining chair is
not able to travel at the moment due to medical issues that kept him out of work. How
many attendance points do you think he received? Our guess is NONE. The CWA
Bargaining Committee had already planned on getting together this week to study the
proposals and the open issues and work on our response. We have the right under the
National Labor Relations Act to insist on face to face bargaining, and we hope the AT&T
bargaining chair is cleared to travel soon.
By now you should have received information on how to join our Town Hall Call next
Thursday evening, October 19th. We look forward to hearing from you.
Your CWA Bargaining Committee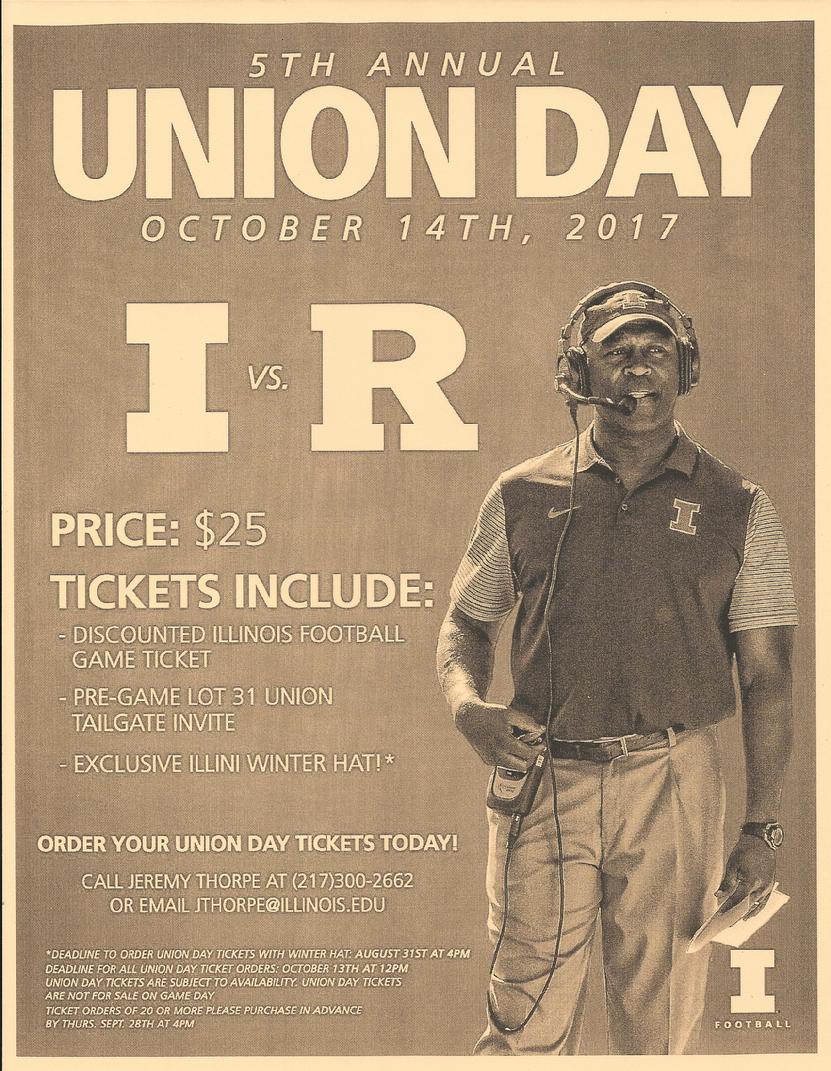 Union Day @ Uof I
CWA / AT&T 2017 "Orange" Contract Bargaining
August 15, 2017
Note: You cannot be disciplined for following management's rules. In fact, you can be disciplined for NOT following management's rules. So, if any manager complains that your work-output is too slow as a result of following their rules, ask them to put in writing which step you should skip. Unless you get something in writing from your boss, be sure to follow all their rules, even if your manager complains that things are taking too long.
What is "Skip No Steps"?
Skip No Steps is a reminder that all members should follow all work rules from management.
Why should we do "Skip No Steps" now?
While we are working without a contract, members do not have arbitration rights. Even though we still have the right to the grievance process, this lack of arbitration rights can potentially put members in increased jeopardy, especially while we are coming up on a busy sales season. One way to mitigate this risk it to make sure we are all following the rules the company has laid out for us.
Is this designed to slow down our work?
No. Skip No Steps is designed to protect our members during this stressful period when we don't have arbitration rights.
I am a technician. Is there a specific example of a rule I should be following.
Technicians should follow all rules imposed by management. Follow the MOP (Method of Procedure). One important example is the Vehicle Safety Check and Safety Exercises. AT&T mandates that all members do an exhaustive safety check of our vehicles before each tour, and do stretches and exercise to lower the risk of injury (Pre-Driving Vehicle Inspection). Be sure to do this comprehensive safety check and exercise/stretching as per the guidelines.
I work as a Retail worker. Is there a specific example of a rule I should be following?
Retail workers should follow all rules imposed by management. Make certain you follow the "5 Key Behaviors," and give the entire "Customer Experience" to all customers. This means making sure to check over customers' bills for overages, data, and be sure to follow the CPNI Rule for all customers, etc.
I work at a Call Center. Is there a specific example of a rule I should be following?
Call center workers should follow all rules imposed by management. Be sure to follow My CSP procedures for all calls; be sure to follow "5 key behaviors," including greetings, planting of the seeds, etc. Be sure to have all your tools at the ready, including MyCSP, OPUS, Clarify, Zone, and Snapshot.
Following management's rules sometimes slows us down. Can I be legally disciplined for following all these rules?
No. Members can be disciplined for NOT following the rules imposed by management. Remember, during this stressful time, we want to make sure our members are protected. Therefore, be sure to follow all rules from management.
AT&T MOBILITY STRIKE FAQ - FROM WWW.CWA-UNION.ORG

May 3, 2017
What is a scab?
A scab is someone who crosses a picket line and decides not to fight alongside her brothers and sisters. Scabs make it easier for AT&T to lower wages and benefits. Anyone who scabs should think about how she is selling out her coworkers for some short term crumbs from the company.

But I have a family to support. I can't afford to strike.
Striking is hard for everyone. There will be 21 thousand members across the country, many single moms with kids, who will be doing the right thing and striking if and when the time comes. Everyone is in the same boat. CWA has a multi-million dollar Strike Fund. We are a family, and we will take care of each other.

Did anyone lose their home or car during last year's Verizon strike?
No. In addition to the normal strike checks members will receive if the strike lasts longer than 14 days, CWA has special funds available to pay for members who face financial emergencies during any strike. CWA paid mortgage and rent and car payments for many members who could prove that they could not afford to cover such bills during the strike.
During the 49 day Verizon strike, not a single member lost his home, or car. Not a single member was denied necessary medical care for themselves or families.

Can I get absence points or get fired during the strike?
No. Striking is a legally protected activity, and anyone on strike will not get any points or be disciplined or terminated for striking.

Is it legal for managers to ask me if I will strike?
No. This is an Unfair Labor Practice, and a violation of Federal Law.

What if a strike falls during my vacation?
Members who are on an approved vacation during a strike will get paid by the company, as usual.

What did we learn during the Verizon strike?
We learned that customers are enormously sympathetic to labor issues these days. During the Verizon strike last year, most customers honored our picket lines. This caused the company to lose millions in revenue, which ultimately helped the union win the strike.
We also learned that Verizon retail workers especially hardly made any money in empty stores.

More on scabs.
We encourage people to ask their grandparents why they shouldn't scab. The union movement and indeed the middle class was built by workers in previous generations rising to the challenge during past labor disputes. Do you have what it takes to follow in your grandparent's steps and fight back?
---

Here is a quote from Jack London, in 1904 which is as true today as it was then:
"After God had finished the rattlesnake, the toad, the vampire, He had some awful substance left with which He made a scab.
A scab is a two-legged animal with a cork-screw soul, a water-logged brain, a combination backbone of jelly and glue. Where others have hearts, he carries a tumor of rotten principles.
When a scab comes down the street, men turn their backs and angels weep in heaven, and the Devil shuts the gates of Hell to keep him out. No man has a right to scab so long as there is a pool of water to drown his carcass in, or a rope long enough to hang his body with. Judas Iscariot was a gentleman compared with a scab. For betraying his master, he had character enough to hang himself. A scab has not.
Esau sold his birthright for a mess of pottage. Judas Iscariot sold his Savior for thirty pieces of silver. Benedict Arnold sold his country for a promise of a commission in the British Army. The modern strikebreaker sells his birthright, his country, his wife, his children and his fellow men for an unfulfilled promise from his employer, trust or corporation.
Esau was a traitor to himself: Judas Iscariot was a traitor to his God; Benedict Arnold was a traitor to his country; a strikebreaker is a traitor to his God, his country, his wife, his family and his class."
April 30, 2017

What is the CWA Members Relief Fund?

It is a fund that provides assistance to members and agency fee payers during sanctioned strikes. It is funded by ¼ hour of basic wages per month per member or agency fee payer eligible to strike.

How do I get striker benefits?

Strikers are required to perform strike duty. The Local determines the amount of strike duty. Strike assignments may include, but are not limited to: picket duty, phone duty, email duty, etc. If you have a medical condition or problem that would prevent you from walking a picket line, we can assign your duties. Before any strike benefits are paid a Striker Certification Form must be filled out and on file at the Local office.

What are the weekly benefits to strikers?

The CWA Members Relief Fund provides striker a strike benefit of $200 per week beginning with the 15th day of the strike, $300 per week beginning with the 29th day of the strike, and $400 beginning on the 57th day of the strike.

Are weekly strike benefits taxed?

Strike benefits are taxed similar to the way interest on a savings account is taxed. If you receive over $600 in strike benefits in one year, the Local will send you a 1099 Form.

If you have any questions, please contact the local office at (217)892-8700. If you haven't already done so, please fill out the striker certification form and email it to treasurer@cwa4202.org or fax it to (217)892-5558.





Mobility Striker Certification Form
RATIFIED August 30, 2016

August 3, 2016

CWA Reaches New Tentative Agreement (TA) over AT&T Mobility Benefits:

"We had two main goals for our 2016 negotiations over the National Bargained Benefits Plan at AT&T Mobility – we wanted to make health care more affordable and we wanted to put health benefits into the regional collective bargaining agreements. We met these goals with this new tentative agreement. "
NOTICE.....
Please do not contact the Local via company email. We will not be able to respond. Please use only personal email (ie: AOL, yahoo, msn, etc.). If you do not have personal email, please contact the Local or your representative via phone.
---
GRIEVANCES AND ADDRESS CHANGES
If you need to file a grievance, please go the "Your Rights" section on the left. Then go to "Grievance Form" on the top. Fill out the form and submit.
If you need to change your address, please go to "Contact Us" on the left. then go to "Address Change". You may also use this form for name changes.
---
IN SEARCH OF JOB

The Free Press, Kerville, Texas

Joe Smith started his day early, having set his alarm clock (MADE IN JAPAN) for 6 a.m. While his coffee pot (MADE IN CHINA) was perking, he shaved with his electric razor (MADE IN HONG KONG). He put on a dress shirt (MADE IN SRI LANKA), designer jeans (MADE IN SINGAPORE), and tennis shoes (MADE IN KOREA).

After cooking his breakfast in his new electric skillet (MADE IN INDIA), he sat down with his calculator (MADE IN MEXICO) to see how much he could spend today. After setting his watch (MADE IN TAIWAN) to the radio (MADE IN INDIA), he got into his car (MADE IN GERMANY) and continued his search for a good paying AMERICAN JOB.

At the end of another discouraging and fruitless day, Joe decided to relax for a while. He put on his sandals (MADE IN BRAZIL), poured himself a glass of wine (MADE IN FRANCE) and turned on his TV (MADE IN INDONESIA), and then wondered why he can't find a good paying job...in AMERICA




Your Benefits Weren't A Gift

The advantages you enjoy as a union member - a guaranteed wage rate, protection against unfair treatment, paid vacations and holidays, health and wealth benefits and a pension plan were not gifts from management.

Your employer may try to give you the idea that your pay and benefits are the result of management generosity (a contradiction in terms). Don't be fooled.

CWA members have struggled long and hard to achieve what we have today. Sometimes they have been forced to strike - meaning weeks of hardship for themselves and their families - to gain the things you now enjoy.

YOUR EMPLOYER HAS NEVER AGREED TO ANYTHING OUT OF THE GOODNESS OF ITS HEART!

IT'S THE UNION, NOT YOUR EMPLOYER, who is responsible for what you have today. It's the union, with your support that will be responsible for all the gains you make in the future.



CWA LOCAL 4202
425 S MURRAY RD STE 108
RANTOUL, IL 61866